Porcini and black truffle flavour aromatic olive oil free of charge on orders over €40 with promo code PRIVILEGE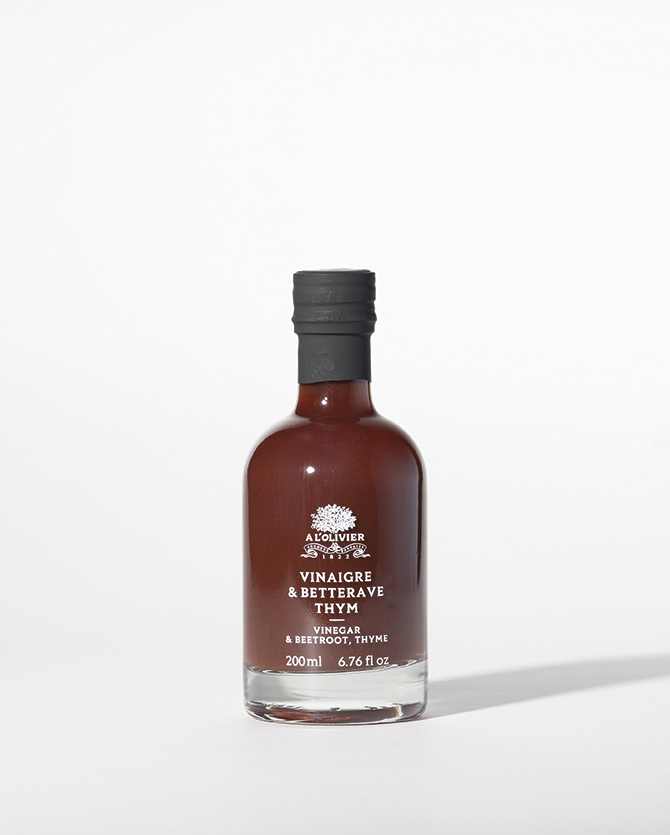  
Vinegar with Beetroot and Thyme
An original combination for an explosion of flavour
Description
Try our aromatic beetroot & thyme vinegar, you'll be surprised by its deliciously sweet taste. The peppery citrus flavour of thyme balances the sweetness of beetroot, giving this simple dressing a unique taste. 
Advice on use
This vinegar tastes great in a dressing drizzled over warm leeks, scallop salads, sweet/salty salads with apples, kiwi and black radish or warm goat's cheese on toast.
COMPOSITION
Vinegar with beetroot puree and thyme
Ingredients: vinegar 43%, beetroot puree 40%, sugar, thickener: pectin, thyme 0,75%. Shake well before use.
Shake well before use. Once opened, store in a refrigerator.Nutritional values 100 ml - Energy: 350 kJ / 82 kcal - Fat: <0,5 g - of which saturates: 0 g - Carbohydrate: 19,3 g - of which sugars: 19 g - Fibre: 0 g - Protein: 0.5 g - Salt: 0.08 g.
The extra touch
Intense flavour

Our aromatic vinegar stands our for its intense flavour.

Excellence

Our unique expertise is reflected in our blending and maturation processes.

No flavourings or preservatives

We don't use any artificial colourings, flavourings or preservatives in this delicious recipe. The colour of our vinegar is obtained from the fruit purée—no colouring needed!

The art of food presentation

With just a few drops or a little drizzle, you can create a dish that looks as good as it tastes.
OPINION ON Vinegar with Beetroot and Thyme