Delivery to over 150 countries worldwide. Departure from our warehouses in France within 3 to 5 working days.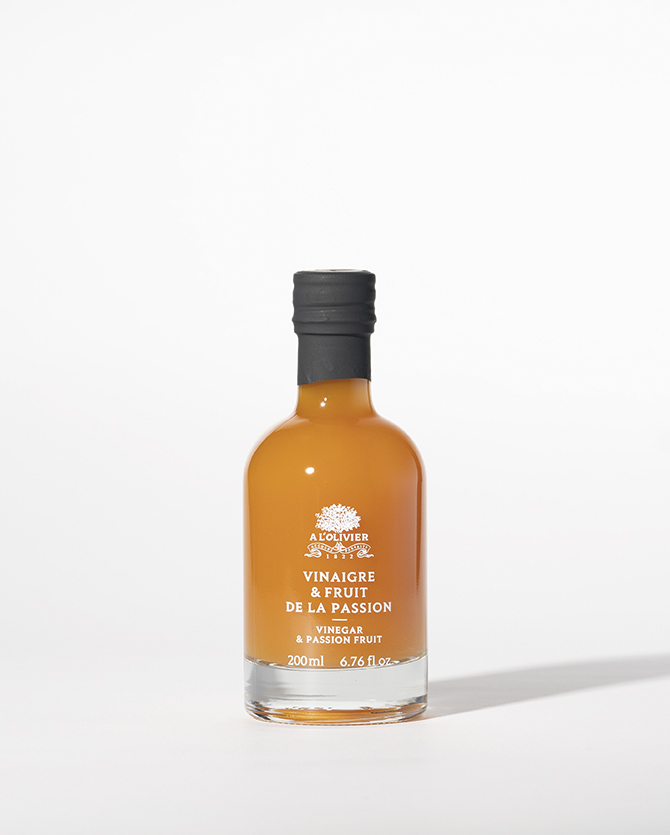  
Vinegar & Passion fruit
Escape the mundane with this delicious, summery vinegar.
SECURED PAYMENT
Visa - Mastercard - AMEX - Maestro - Credit Card
DELIVERY
to over 150 countries worldwide
DELIVERY TIME
departure from our warehouses in France within 3 to 5 working days
Description
The ideal condiment for adding delicious tart and fruity notes to your recipes. Passion fruit brings notes of orange rum to this vinegar: the balanced combination of flavours will give your recipes an original touch.  
Advice on use
This vinegar can be used as a substitute for lemon juice on freshly cooked fish or to deglaze pan-fried langoustines sautéed in olive oil. It makes a perfect fish marinade, and tastes great with scallop carpaccio, sushi, and exotic salads.
COMPOSITION
Vinegar with passion fruit puree
Ingredients: vinegar 42.5%, passion fruit puree 36%, sugar, thickener: pectin.
Shake well before use. Once opened, store in a refrigerator. Nutritional values 100 ml - Energy: 490 kJ / 117 kcal - Fat: 0 g - of which saturates: 0 g - Carbohydrate: 28 g - of which sugars: 26 g - Fibre: 0 g - Protein: 0 g - Salt: 0.04 g.
The extra touch
Intense flavour

Our passion fruit vinegar stands out for its intensely fruity flavour.

Excellence

Our unique expertise is reflected in our blending and maturation processes.

No flavourings or preservatives

We don't use any artificial colourings, flavourings or preservatives in this delicious recipe. The colour of our vinegar is obtained from the fruit purée—no colouring needed!

The art of food presentation

With just a few drops or a little drizzle, you can create a dish that looks as good as it tastes.
OPINION ON Vinegar & Passion fruit