Delivery to over 150 countries worldwide. Departure from our warehouses in France within 3 to 5 working days.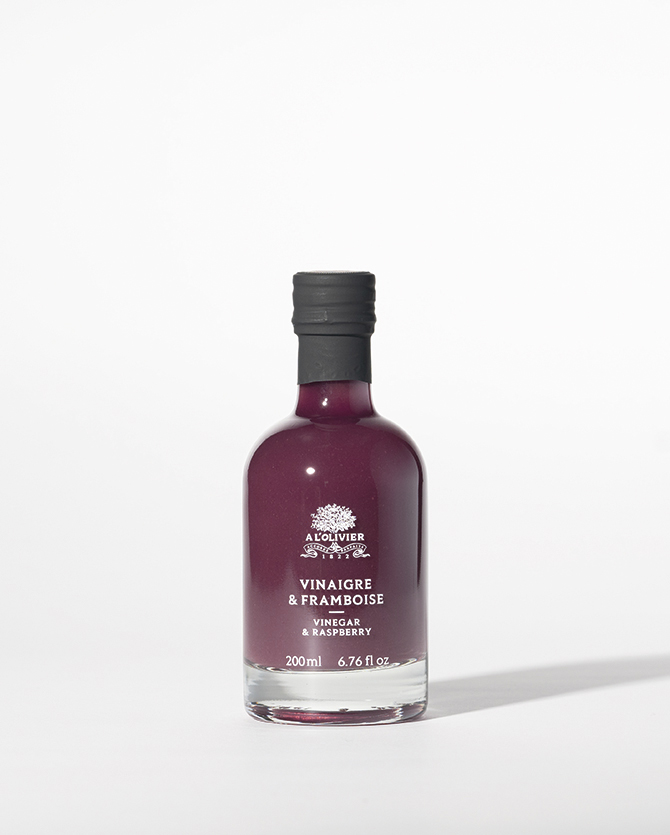  
Vinegar & Raspberry
Its subtle sweetness will add a beautiful flavour to all your dishes
SECURED PAYMENT
Visa - Mastercard - AMEX - Maestro - Credit Card
DELIVERY
to over 150 countries worldwide
DELIVERY TIME
departure from our warehouses in France within 3 to 5 working days
Description
A surprising condiment made from a subtle pairing of vinegar and raspberry purée. The perfect balance between acidity and sweetness, with a touch of freshness and woody notes.
Advice on use
This vinegar is ideal for making a fruity dressing to season red cabbage, beet salad or mixed gizzard salad.

It's also great for deglazing meat, creating mouth-watering sauces, or giving that special something to some fresh goat's cheese or a bowl of figs and vanilla ice cream after a meal.

Discover our recipes: Duck breast with A l'Olivier raspberry vinegar
COMPOSITION
Vinegar with raspberry puree 
Ingredients: vinegar 43%, raspberry puree 36%, sugar, thickener: pectin.
Shake well before use. Once opened, store in a refrigerator. 
Nutritional values 100 ml - Energy: 498 kJ / 119 kcal - Fat: 0 g - of which saturates: 0 g - Carbohydrate: 29 g - of which sugars: 27 g - Fibre: 0 g - Protein: 0 g - Salt: 0.03 g.
The extra touch
Intense flavour

Our raspberry vinegar stands out for its intensity and raspberry flavour.

Excellence

Our unique expertise is reflected in our blending and maturation processes.

No flavourings or preservatives

We don't use any artificial colourings, flavourings or preservatives in this delicious recipe. The colour of our vinegar is obtained from the raspberry purée.

The art of food presentation

With just a few drops or a little drizzle, you can create a dish that looks as good as it tastes.
OPINION ON Vinegar & Raspberry