Delivery to over 150 countries worldwide. Departure from our warehouses in France within 3 to 5 working days.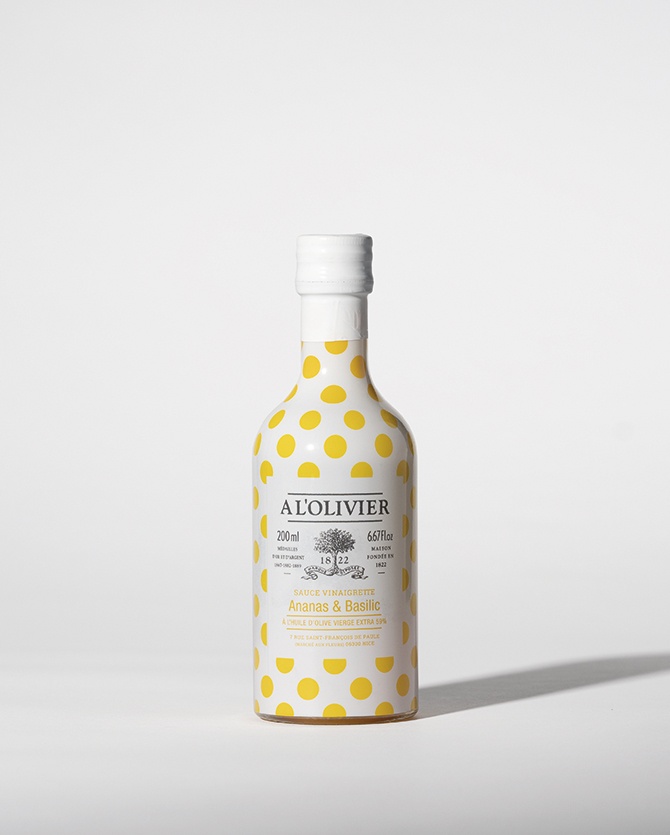  
Pineapple & Basil Dressing
A touch of originality that will add an exciting pop of flavour to your salads
SECURED PAYMENT
Visa - Mastercard - AMEX - Maestro - Credit Card
DELIVERY
to over 150 countries worldwide
DELIVERY TIME
departure from our warehouses in France within 3 to 5 working days
Description
Our iconic basil oil combined with aromatic pineapple vinegar for a fresh and exotic dressing. The aromatic intensity of the basil and the tart freshness of the pineapple are a match made in heaven, creating a well-balanced, original dressing bursting with flavour.
Advice on use
This dressing is ideal on salads, seafood carpaccios and ceviches. It's also great in poultry, pork and prawn marinades…
COMPOSITION
Dressing made from 59% extra virgin olive oil, 30% pineapple vinegar and basil.
Ingredients: Extra virgin olive oil 59%, pineapple vinegar 30% (vinegar, pineapple purée 40%, sugar, thickener: apple pectin), cider vinegar, basil extract 1%.
Store in a cool dark place. Shake before use. Once opened, do not store in the refrigerator. Average nutritional values per 100 ml - Energy: 2176 kJ / 520 kcal - Fat: 54.5 g - of which saturated fatty acids: 8 g - Carbohydrate: 7.5 g - of which sugars: 7 g - Fibre: 0 g – Protein: 0.05 g - Salt: 0 g.
The extra touch
An exclusive olive oil recipe

A culinary creation designed to surprise your taste buds.

A uniquely creamy texture

This creamy sauce will add a subtle sweetness to your dishes.

Quality ingredients

Our sauce, without water, is made from ingredients specially selected for their great taste.

Additive-free

Our dressing contains no emulsifiers, flavourings or preservatives.
OPINION ON Pineapple & Basil Dressing