Delivery to over 150 countries worldwide. Departure from our warehouses in France within 3 to 5 working days.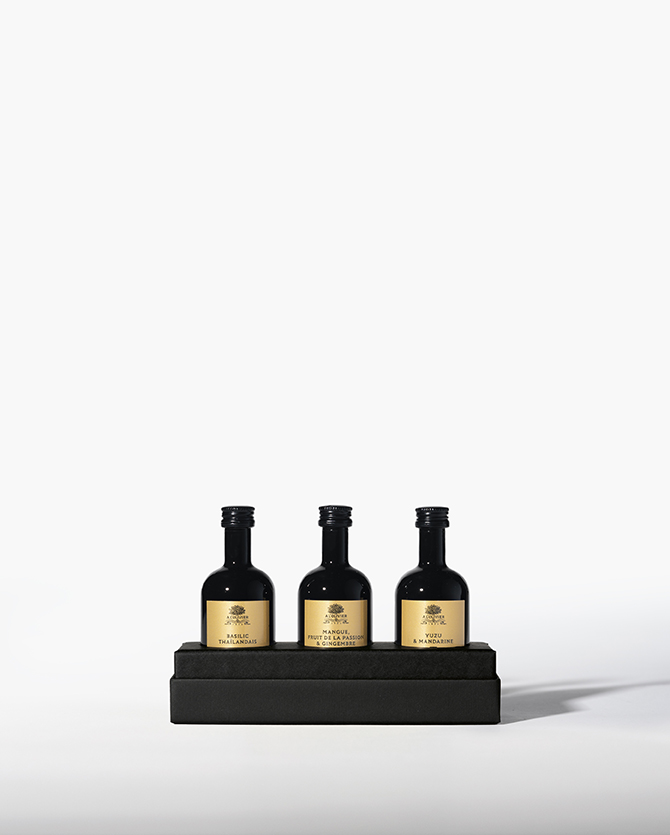  
ELIXIRS COLLECTION N°64
Let yourself embark on a culinary world tour with these exotic flavours. 
SECURED PAYMENT
Visa - Mastercard - AMEX - Maestro - Credit Card
DELIVERY
to over 150 countries worldwide
DELIVERY TIME
departure from our warehouses in France within 3 to 5 working days
Description
Embark on a culinary journey with collection N°64. This collection features the perfect combination of exotic flavours that are sure to take your dishes to a whole new level. With aromatic Thai basil oil, aromatic yuzu & tangerine vinegar and aromatic mango, passion fruit & ginger vinegar, our new creations will take you on a culinary adventure. 
Give your recipes a new lease of life with our Elixirs, a new range of olive oils and aromatic vinegars made from exceptional ingredients. This luxury set would look beautiful on a dining room table. Keep it close to hand so that you can express your flair for food everyday. 
Advice on use
Our aromatic oils and fruit vinegars are infused using a method that captures all the aromas of fresh plants, and their natural aromatic flavours will bring a beautiful harmony to all your dishes.
Our aromatic Thai basil oil elixir pairs well with stir-fried vegetables or marinated chicken skewers.
Discover our recipe :  Beef stir-fry A l'Olivier thai basil aromatic Elixir olive oil
Our aromatic mango, passion fruit and ginger vinegar elixir pairs well with foie gras or chocolate-based desserts.
You'll love the fresh taste of our yuzu and tangerine vinegar, especially drizzled over seared scallops. It's also a great way to deglaze white meat.
COMPOSITION
1. Preparation made from extra virgin olive oil 99% and Thai Basil extract
Ingredients: extra virgin olive oil 99%, thai basil extract* 1%.
*(333g of thai basil are needed to flavour 1L of oil).
2. Preparation made with Ginger infused vinegar, Mango and Passion Fruit purees
Ingredients: ginger infused vinegar 42.8% (vinegar, ginger 8.1%), mango puree 25.1%, sugar, passion fruit puree 10.8%, thickener: pectin.
3. Preparation made with vinegar, Yuzu and Mandarin juices
Ingredients: vinegar 43%, juice and pulp (mandarin 13.2%, grapefruit, orange), yuzu juice 7%, sugar, thickener: pectin.
OLIVE OILS: Store in a cool dark place. 
VINEGARS: Once opened, store in a refrigerator.
OPINION ON ELIXIRS COLLECTION N°64