Porcini and black truffle flavour aromatic olive oil free of charge on orders over €40 with promo code PRIVILEGE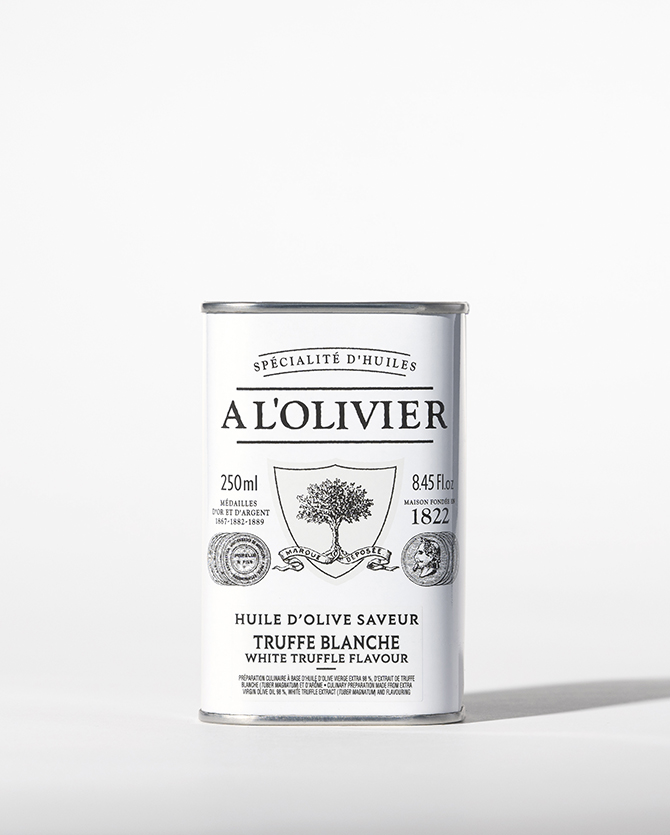  
White truffle flavour aromatic olive oil
Olive oil infused with the flavour of white truffle, a rare and much-loved treasure
Description
The taste of truffle, with its subtle notes of garlic, infused into extra virgin olive oil and enhanced with truffle aroma: a delicate and delicious combination that every food lover will enjoy. It tastes great with any autumnal recipe due to its earthy notes.
Advice on use
This olive oil tastes great on steamed potato, veal chops in a creamy sauce, risotto or simply drizzled over pasta.
COMPOSITION
CULINARY PREPARATION MADE FROM EXTRA VIRGIN OLIVE OIL 98%,WHITE TRUFFLE (TUBER MAGNATUM) EXTRACT AND FLAVOUR
Ingredients: extra virgin olive oil 98%, white truffle extract (Tuber magnatum)* 1%, flavour
*(2 g of white truffle (Tuber magnatum) are needed to flavour 1 L of olive oil)
Store in a cool dark place.
Nutritional values 100 ml - Energy:
3428 kJ / 819 kcal - Fat:91 g - of which saturates: 13 g - Carbohydrate: 0 g - of which sugars:0 g - Protein: 0 g - Salt: 0 g.
The extra touch
The real taste of truffle

Made from real pieces of truffle, our oil will take your taste buds on a real culinary journey.

Healthy and wholesome

Olive oil contains Omega 9 monounsaturated fatty acids, which are essential for the body.

Delicious and sophisticated

Aromatic white truffle flavour olive oil is synonymous with delicious and sophisticated recipes.

Easy to use

A drizzle of olive oil is all you need to give your dishes the perfect finishing touch.
OPINION ON White truffle flavour aromatic olive oil