Delivery to over 150 countries worldwide. Departure from our warehouses in France within 3 to 5 working days.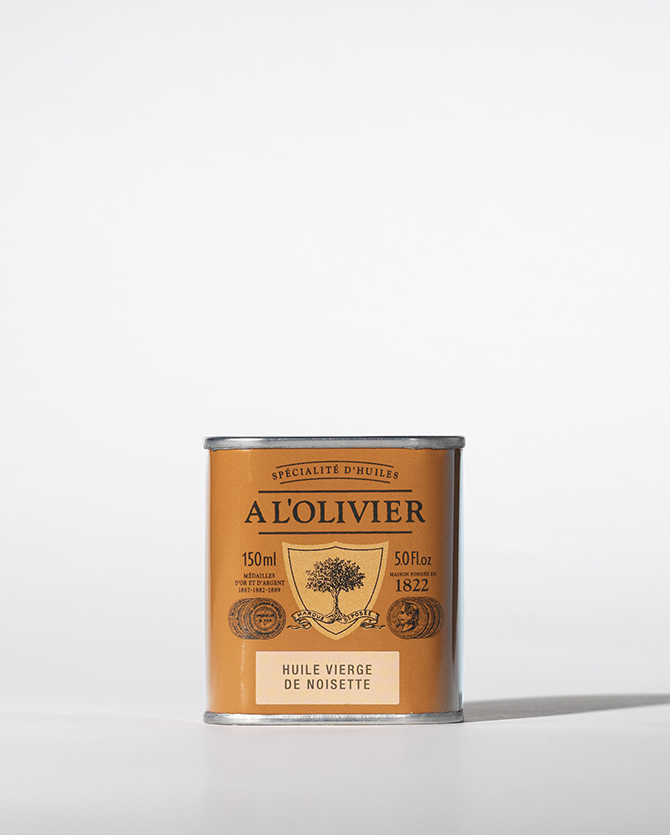  
Virgin hazelnut oil
Our hazelnut oil is produced in our mill in Poitou using traditional methods. 
SECURED PAYMENT
Visa - Mastercard - AMEX - Maestro - Credit Card
DELIVERY
to over 150 countries worldwide
DELIVERY TIME
departure from our warehouses in France within 3 to 5 working days
Description
A French kitchen staple that every food lover needs at home. Virgin hazelnut oil gets its deliciously sweet flavour by combining fruitiness with aromatic richness. The intense taste of toasted hazelnuts is slightly sweet, giving the oil a delicate and subtle flavour.
Advice on use
This oil is great in vegetable tartares. It also makes a good dressing for a duck and avocado salad or a ham and sheep's cheese sandwich. Why not also use it as a duck marinade? Thanks to its sweet flavour, it also pairs well with certain sweet recipes, such as chocolate hazelnut sauce.
COMPOSITION
Virgin hazelnut oil
Perfect for dressings or as a finish to a dish. Store in a cool dark place. Once opened, keep in the refrigerator.
Nutritional values 100 ml - Energy: 3401 kJ / 827 kcal - Fat: 92 g - of which saturates: 7,0 g - Carbohydrate: 0 g - of which sugars: 0 g - Fibre: 0 g - Protein: 0 g - Salt: 0 g.
The extra touch
A perfectly balanced flavour

Thanks to our milling expertise, we achieve a subtle balance between the toasted flavour and characteristic taste of hazelnut.

Ideal for baking

This oil has a sweet taste that perfectly complements many desserts: spreads, chocolate cake, hazelnut ice cream and chocolate...

Easy to store

Our opaque packaging protects the oil from light, improving shelf life.

Easy to use

A drizzle of oil is all you need to give your dishes the perfect finishing touch.
OPINION ON Virgin hazelnut oil